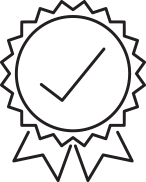 Our
Promise
Quality, craftsmanship, and satisfaction on everything we sell.
Since
1949
Free cleaning and inspection anytime to ensure your settings are secure.
No
Pressure
None of our staff is paid commission. We will always ensure you and your family leave our store with what you want and nothing that you do not.
Our Story
Swierenga Jewelers has deep roots in the traditions of family and good old-fashioned service that date back to 1949 when Barney Swierenga established the business on Wealthy Street in Grand Rapids.
The following year Mr. Swierenga hired a dedicated young watchmaker named Tunis Vander Lugt, and soon after moved the store to a new "suburban" Alger Heights shopping center in southeast Grand Rapids.
Fifteen years later Mr. Vander Lugt bought the business, and with his wife Lois, earned a loyal clientele from all over West Michigan. He decided to honor the founder by keeping the original store name. In 1981, Tunis and Louis' oldest son Tom – who had earned credentials in Gemology and Goldsmithing and been involved in the business since childhood – bought Swierenga Jewelers from his father. Under Tom and his wife Deb, the business continued to prosper, outgrowing the Alger Heights location.
In 1999, Swierenga Jewelers moved to its current location in the beautiful Caledonia D&W Village Center where the customer-centered traditions of quality, selection and service continues today, over six decades later.
Our Promise
Quality. Each piece we feature has been carefully selected from our most trusted designers or handcrafted on-site to be of the utmost quality. Swierenga Jewelers is also proudly affiliated with the industry's most prestigious organizations, certifying our standard of excellence.
Selection. From beautiful diamonds and gemstones to our broad selection of fine jewelry, pendants, earrings, bracelets and watches, you'll discover our selection is second to none. We offer a distinctive blend of styles, from traditional and classic to the contemporary and unique. And if you have something very specific in mind, we're happy to design a custom piece that's exactly what you want.
Value. Our pricing is considerate and fair, and our customers can confirm they represent the best possible value. You'll never find us inflating "original" prices in order to give the impression of bargain markdowns. Swierenga Jewelers proudly stands behind the quality and value of every piece we sell.
Service. We treat our customers with honesty and respect, welcoming them with a warm, elegant and friendly atmosphere. Our staff is trained and knowledgeable, and under no pressure to earn commission. We genuinely want to help make your occasion the very best it can be, and provide top-notch service long after the sale.