Where do you find yourself on your day off?
What is your go-to jacket?
Where is your dream vacation destination?
What does your job mostly include?
What was the last movie you saw?
Which of these dishes would you order at a restaurant?
What kind of music do you listen to?
Jewelry Style Quiz
Classic Jewelry Style
Girl, you are never going out of style because you are timeless! You have invested in your jewelry and handle it with care and upkeep because you will be wearing it for many years to come. Fads may come and go, but you have an eye for those pieces that will transcend the decades and come out better than ever. Shopping for jewelry can take you to estate and vintage sales as well as high-end jewelry stores. Your tastes may include a pearl necklace, diamond earrings, or a nice watch. Your engagement ring style is a timeless gold band with a solitaire diamond stone. Staples such as these make you an icon!
Trendy Jewelry Style
You are all about the here and now! While you may take your cues from celebrities and fashion icons, you also aren't afraid to set your own trends. Right now you are rocking the latest like gold hoops, personalized necklaces, and layered bracelets, but who knows what tomorrow will bring! Your engagement ring style is a custom designed ring catered just to your preferences. Our advice to stay in the moment is to limit your trendy investments to one of each style in case of the trend quickly moving on, but make sure to save it for the day when the trend cycles back as they always do!
Modern Jewelry Style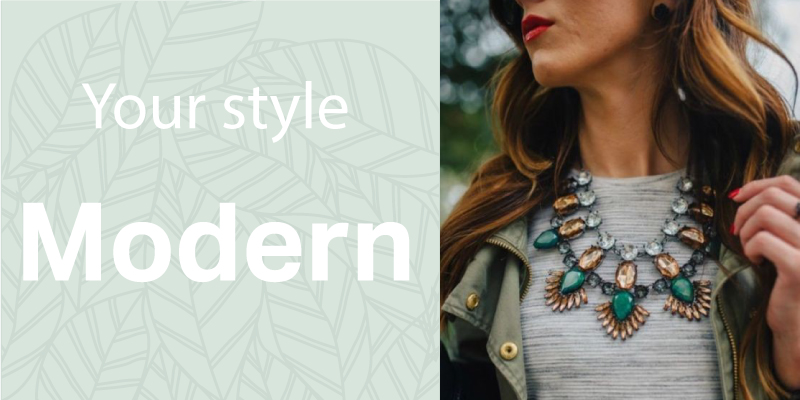 This is not your grandma's style, because you have a modern taste for jewelry! You seek fashionable pieces that are out of the ordinary and eye-catching. Your look has not been done before, and that makes it exciting! Modern jewelry takes a classic or trendy piece and puts a edgy spin on it to make it new again. Statement necklaces, bold colored layered bracelets, and oversized dangle earrings make a contemporary addition to your outfits. Your engagement ring style is a diamond-studded band with a sapphire stone. You have the freedom to color outside the lines and that makes you a trendsetter!
Minimalist Jewelry Style
Wearing jewelry may not be your top priority while picking out an outfit, and that's okay! Having a less is more approach when it comes to jewelry fits both your personality and lifestyle. That does not mean your jewelry box has to be empty. We recommend you pick out everyday daintier pieces that are extremely versatile and hold sentimental value. This could range from small studs in your favorite shape to a gold necklace with your kids' initials. Your engagement ring style is a brass band with a cluster of smaller diamonds. Looks like these can go from the office to a night out or even outside for a hike effortlessly.